Theatre Arts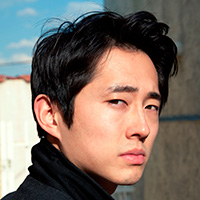 Steven Yeun '05, Actor
My experience at Kalamazoo was incredible. What I loved about Kalamazoo was that it gave me an opportunity to try everything at least once. I got to study the sciences while also jumping into the theatre. I got to write my thesis on religion while studying abroad in the U.K. I was surrounded by an eclectic mix of peers who pushed me and exposed me to experience so many different cultures and ideologies. It was a true coming-of-age college experience.
Program Information
Professors: Berthel (Chair), Menta (Emeritus), Potts (Director of Theatre), Reeves
Dedicated to the liberal arts traditions and innovations of Kalamazoo College, the Department of Theatre Arts offers students access to the collaborative nature of drama through the integration of both creative and analytical courses, production laboratories, internships, and individualized projects. By studying the wealth of worldwide theatre traditions reflecting the pluralism in our society and the interdependence of all peoples and cultures, students gain the research tools for self-discovery; informed, critical thinking; the ability to take action on their ideas and responsibilities; and the development of the kind of self-esteem and values that will lead them as artists toward enjoying a lifelong journey of personal growth and inquiry in a climate whereby each may learn to speak with his or her own voice.
Open to all, majors and nonmajors alike, theatre arts productions emphasize both personal and skill development in acting, design, stage management,  arts management, technical areas, and directing. The productions also serve as creative activities for students and enjoyable, thought-provoking entertainment for audiences. The academic program focuses upon a wide range of dramatic styles, encouraging students to understand the breadth of dramatic literature from the classical to the most contemporary. Experiential components are clearly linked with classroom studies and offer involvement with the Festival Playhouse Company, drama study in England, student projects in the experimental Dungeon Theatre, placement with regional and professional theatres, and opportunity for participation in the GLCA New York Arts Program. Students interested in these opportunities should consult with department faculty regarding options and prerequisites.