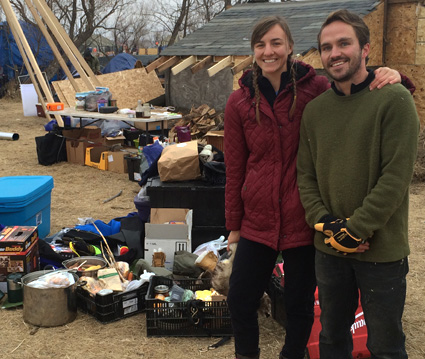 Jamie Schaub '12, a Montessori teacher who lives and works in Traverse City, Michigan, traveled to Standing Rock Indian Reservation in North Dakota during Thanksgiving. She shared her story of leaving home to go home.
A few days before Thanksgiving I decided to travel to Standing Rock, an impulse initiated by donations collected in Traverse City by Jenn Demoss, who knew Lee Sprague, an elected tribal leader in Michigan currently living at Oceti Sakowin camp, one of several that compose the Standing Rock community of Water Protectors. Jenn had more than she could fit in her car, a testament to the power of human connection, a power my partner, Brenin Wertz-Roth, and I experienced often during the journey. We felt love and support from our families and friends, as if all of the people we know were traveling with us, and in addition to warm clothes, gear, tools, and supplies, we also were carrying prayers, hope and love.
We wanted to support the protesters who have left their homes and created a new community at Standing Rock camp. I believe in protecting the water and the earth, and I wanted to support those who have been standing strong for such protection against the Dakota Access Pipeline, in spite of violence, harsh weather, and sleep deprivation.
Throughout our drive our friends from near and far sent donations which felt like little hugs along the way. Friends with whom we hadn't been in touch reached out, and it initiated beautiful conversations as we caught up about our lives. We were welcomed to stay in many homes in Minneapolis (the journey's halfway point). How lucky to have such kind friends in our lives.
We received around $3,000 in donations within hours of deciding to go, which meant we could purchase more supplies for the Standing Rock community along the way.
The most expensive of items needed were dry suits, (a new one starts around $1,000). We searched Craigslist and made a couple of detours in Wisconsin and Minnesota.
In Minnesota we decided to purchase more neoprene gear, binoculars, walkie talkies and space blankets. We needed to find an outdoor store; Cabela's opened the earliest. I decided to ask for a discount at the checkout stating that we were buying supplies for Standing Rock protesters. The manager gave us employee pricing without hesitation. Beautiful human. With the $200 saved we purchased more building supplies.
Outside Minnesota we let Lee know we were on our way. He recounted the violence of  the previous Sunday, the deployment against the protesters of concussion grenades, rubber bullets, water hoses, pepper spray and mace. He had a large deep purple bruise on his side despite having many layers of protection. Most people at the camp, including Lee, had suffered injuries. We made plans to arrive at Standing Rock following morning.
Next day, car stuffed, we drove north, anxious to arrive at camp. It was a cool, muted morning. The grassy landscape greeted us, and then the river–it was beautiful, worth protecting. This landscape was like the view of Lake Michigan, vast and seemingly unending, just more yellowy-beige than blue.
As we neared the camp its immensity (physical and symbolic) nearly overwhelmed us. It was so much larger than I thought—cars, teepees, yurts, tents, and buildings everywhere; all sorts of flags flying in the winds. The person at the gate embraced us saying, "Welcome home." We found the flags Lee told us to seek atop a plywood building next to several tarpees (teepees constructed from donated heavy-duty,cold-resistant poly tarp material).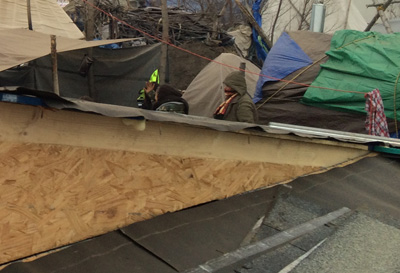 We unloaded the provisions we had brought, and I felt such a lightness. All of the hours in the car disappeared as everyone's faces lit up with happiness and gratitude. The words "thank you" radiated around us with such deep feeling. Their hugs lasted and warmed us. We found ourselves at home at Pueblo Camp in Standing Rock.
Offerings to us were made throughout the day and evening as we prepared the plywood house for winter. I helped Brenin build storage shelves for food. We shingled, sealed holes, insulated walls. I kept thinking: "This is where I am supposed to be right now." Actually, I NEEDED to be here. I needed something bigger, something important, something meaningful. At school my students are representing Venezuela for Montessori Model UN. Our  months of discussion had opened my heart to the thoughtfulness of children. I had been feeling like I wanted to take action, my mind afire with ideas, some of them from my students.
My work at Standing Rock was concrete, worked in wood. While most folks went to protest at the front line on Thanksgiving day, Brenin and I stayed back to continue building and insulation projects, helping prepare the camp for a long winter.
When we left camp for the journey home the moment, and its magnitude, hit us. Gratitude for the ability to go and do something we believe in. Gratitude for those who love us. Gratitude for the strong people at Standing Rock. Gratitude for each other.
I remember the Pueblo people talking about how they are a family (and yet most of them didn't know each other before they arrived in North Dakota from New Mexico and Arizona). I remember the idea of "family reunion" and a gathering of humans happening at camp. This way of interacting with each other I had felt once before, on study abroad in Thailand–the feeling that you are accepted, loved, and family.
I remember a tepee conversation around a fire late one night about the need to realize our shared humanity, that we are brothers and sisters. We talked about people losing their drums, and if we went back to our drum we would go back to acting with intention and care. We discussed prayer, meditation and mindfulness. What a gift to have been with such present and focused human beings.
I am feeling anxious for the friends I met at Standing Rock. I fear that more violence may be coming. The Water Protectors need our support and the action is about much more than an oil pipeline. Where do we stand on an action that gives hope to all?
The people we met at the Standing Rock community are peaceful, loving, kind and welcoming. I am in awe of their strength to maintain a peaceful protest in the face of incredible provocations. I stand with them.
by Jamie Schaub