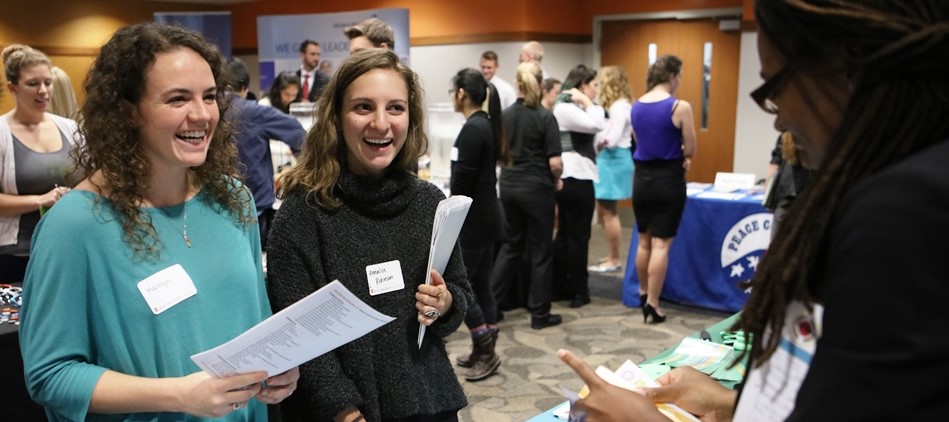 Employers are looking for graduates with the skill set honed by the K-Plan — leadership, work ethic, written and oral communication, problem-solving, adaptability and teamwork. The Center for Career and Professional Development helps students recognize and articulate how their particular K-Plan has developed these skills and prepared them to succeed in a fast-changing, technologically driven global employment market. The services of the Center for Career and Professional Development support students and alumni at all points in their career discernment and development. Early in the process of career decision-making, we offer career coaching and assessment tools to help students explore and set goals. Our team assists students one-on-one and in workshops, first to ask the right questions and then to find their own right answers.
Students learn about the world of work through a series of career-related immersive field experiences, including our nationally known Discovery Externship Program. An externship offers the same benefits as an internship in a shorter time. Students live with K alumni for a week or two to experience the life patterns around a particular career path. This program has helped many students make decisions about their career paths and build networks.
Other uncommon immersive experiences include a suite of K-Treks trips to various industries and locations around the country.
As students move closer to launching their careers after graduation, we provide more targeted opportunities to network and gain experience. Handshake, a leading career platform used at more than 700 schools and more than 300,000 employers, makes personal recommendations based on a student's interests, skills, major, location preferences and search history.
Our recruiting expos brings employers to campus to share information and seek candidates. And our online communities of alumni professionals give our students built-in networks of mentors and connections that last throughout their careers.
Along the way, students discover creative career combinations such as the physics major with a passion for music who found a career as an acoustic design professional, or the chemistry and art history double major who loves her work as an art conservator. These stories of career satisfaction are common at K, as we prepare students to do "More in a Lifetime."
Career Center News
Nionni Permelia worked for Zoo City Farm and Food Network, a nonprofit organization that designs food-industry ecosystems that are beneficial to all. The […]

Uyen Trinh '21 gained global career experience while working as an accountant in the Finance Department of Olympic Broadcasting Services (OBS) in Tokyo. […]

When Kalamazoo College students talk about what they need from their education and career preparedness, they can bet the Center for Career and […]

A group of Kalamazoo College alumni is calling upon itself to help students overcome pandemic-prompted challenges so they can build their networks and […]

K to the Pacific Northwest, a series of K-Treks helping students network virtually with alumni at global companies, is continuing from 7:30 to 9 p.m. Thursday with K to […]
Inside the Center for Career and Professional Development
Contact
Center for Career and Professional Development
phone: 269.337.7183
fax: 269.337.7182
email: career@kzoo.edu