If you′re a K graduate of the last fifteen years (2005-2020), then you′re considered one of our young alumni. You can make a difference in the lives of the students who follow in your footsteps.
You can celebrate the Day of Gracious Living
Celebrate the Day of Gracious Living in a whole new way. Learn more about the Day of Gracious Giving on this year's Day of Gracious Living and how young alumni gifts can be doubled.
You can be a leader
Giving at a leadership level allows you to have an even greater impact. It′s easier than ever before to join the 1833 Society with giving levels scaled to your graduation year.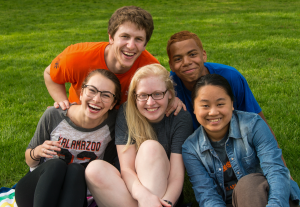 You can increase the power of your gift
Many companies match the value of charitable gifts made by employees. Find out if your employer has a matching gift program.
You can make a difference
Your philanthropy begins right now. You don′t have to wait until you′ve reached the pinnacle of your career or finished graduate school.
"When I graduated from K, an alumnus shared his belief that at the very least, we should each try to contribute enough to cover the academic scholarship we received. I share his belief and have made this my goal as it pertains to giving back to K."
John Mach ′06
You′re on the move
Whether you embarked on a life of continued learning, employment, or exciting adventure, stay in touch and stay involved.
You can stay engaged
Young alumni who value their K experience are vital in promoting Kalamazoo College's distinctive educational mission. You can advance K's mission and solidify its position as one of this country's exceptional liberal arts colleges when you:
In addition to giving to K, Alumni Bites details ways to share your talents and stay engaged with Kalamazoo College as a member of the alumni.