Now accepting applications through October 20, 2020.
Senior Class Agent Application

Who are Class Agents?
The class agent position is a unique opportunity for seniors. This is a leadership position you maintain beyond graduation as a member of the alumni community. More than 140 alumni currently serve as class agents. They span the globe and the decades from the 1950s to the Class of 2020. Class agents are one of the College's largest alumni volunteer networks, making it another great way for you to network and connect with alumni of all ages. 

Watch the short video below to learn more!
Class Agent Role and Responsibilities
Qualifications
Member of the Class of 2021.
An interest in supporting current and future K students by helping to advance the mission of the College through philanthropy.
An interest in planning events and getting to know your classmates.
An interest in building class unity and keeping your class connected through a variety of communication methods.
Seeking students with one or more of the following skills/interests:

Experience and/or interest in fundraising (volunteer efforts, coursework, clubs, etc.).
Strong communication skills (written, verbal, social media, design, etc.).
Desire to engage with others.
Desire to achieve philanthropic goals to enhance the K experience for current and future Hornets.
Self-motivation and the ability to motivate others.
Responsibilities during your senior year:
Plan fun virtual events for seniors and develop a strategy to help reach the goal of the Senior Gift Challenge.
Have conversations with classmates about making their first gift to K during or after senior year.
Participate in class agent training sessions during fall, winter and spring quarters to help you prepare to talk to others about how gifts to K create access and opportunities for students.
Participate in regular meetings with the Kalamazoo College Fund and other senior class agents to keep each other up to speed and plan virtual events and initiatives together.
Help establish a lifelong relationship between K and your classmates.
Responsibilities as alumni class agents:
Write outreach and fundraising letters to your classmates.
Support Kalamazoo College Fund appeals through social media and other outreach.
Assist in planning reunions and reunion giving programs.
Thank classmates for their generosity through notes, emails, and/or phone calls.
Encourage your classmates to update their contact information on a consistent basis and submit class notes.
Encourage classmate donors to continue their annual tradition of giving.
Be a representative voice for your class.
Keep classmates up to date on all things K.
The 2021 Senior Class Agent application is now available through October 20, 2020. Apply now.
Meet the 2020 Class Agents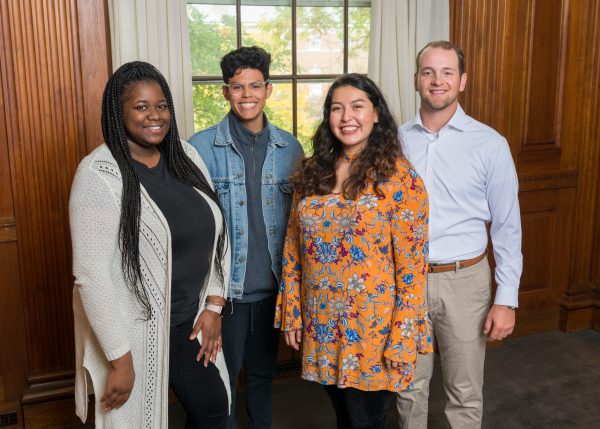 Meet the 2020 Class Agents Miranda Flores-Tirado, Tia "Tee" Martins, Jack Tagget and  Andrew "Drew" Vasquez.