A key component of a Kalamazoo College education is teaching students to think critically about the human impact on the environment in which they live.
The establishment of the Center for Environmental Stewardship – which will become a reality with the creation of a $2 million endowment, seeks to coordinate current programming at the College and expand its reach.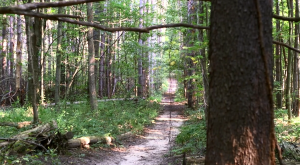 The Lillian Anderson Arboretum will be central to this vision and will function as a learning laboratory for the liberal arts.
Integration with the K-Plan
Curriculum
Big environmental challenges require ideas from a broad range of disciplines. The Environmental Studies program includes courses in biology, chemistry, economics, the social sciences and the humanities – a true liberal arts experience.
International and Intercultural Experience
Study abroad plays a large role in educating students about global environmental considerations, and such considerations are a special focus of our programs in Costa Rica, Ecuador, Kenya and Thailand.
Experiential Learning
Many student organizations focus on the environment. The recycling and composting of campus landscape waste, student outdoor leadership training and community gardens are examples of how students engage with the environment outside of the classroom.
Independent Scholarship
Faculty and students conduct research in sustainable practices such as energy efficiency, reduction of greenhouse gas emissions and sustainable food resources. Students often explore such topics in their Senior Individualized Projects.
Join Us
The efforts of faculty, staff, students and alumni have built a strong foundation for the Center for Environmental Stewardship, but there exists an increasing demand for more rigorous sustainability and environmental stewardship education.
Contact Executive Director of Development Andy Miller '99 for more information on how you can be part of this exciting initiative!