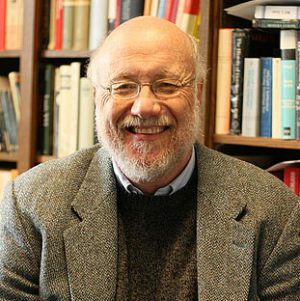 Join David Barclay (Margaret and Roger Scholten Professor of International Studies Emeritus, Department of History) as he discusses Berlin and the United States during the Cold War. At a time when, according to most polling data, US influence in Europe is on the wane, it might be useful to look at a time when the opposite was true. Between 1948 and the mid-1960s, the impact of the United States on West Berlin was so enormous that several historians have described the western half of the divided city as "America's Berlin."  In 1963, John F. Kennedy delivered his famous "Ich bin ein Berliner" speech there; and in 1964 Dr. Martin Luther King, Jr., described Berlin as "the hub around which turns the wheel of history." Dr. Barclay's remarks will focus on the buildings and personalities that shaped "America's Berlin," from Lucius Clay to Eleanor Lansing Dulles, and briefly consider what happened to it after the mid-1960s.
Tuesday, April 20
5 p.m. Eastern

Register: Germany's American Outpost
A Zoom link to join will be included in your registration confirmation email.
Questions? Please email Audrey Bitzer, Advancement Events Manager.
---
New David E. Barclay Endowed Scholarship in History
Alumni, current and retired faculty and staff, and friends of the College have established the David E. Barclay Endowed Scholarship in History to honor Professor Barclay and his 43 years at the College. The scholarship will be awarded every year to a junior or senior history major or minor who demonstrates exemplary capacity for and commitment to scholarly work in the department. Professors Emeriti David Strauss and John Wickstrom were the driving forces behind the fundraising initiative to create this scholarship.
If you would like to support K history students and give in honor of Professor Barclay, please make a gift online to the David E. Barclay Endowed Scholarship in History.
---
About David E. Barclay, PhD
David Barclay devoted his professional life to researching, writing and teaching European history. As a scholar, he achieved national and international distinction for his work in modern German history. During a 43-year career at Kalamazoo College, he shared his achievements in those fields with several generations of students. David worked tirelessly to expand the influence of the history department at K. Collaborating with colleagues, he wrote a successful proposal for the Center for Western European Studies, a Title VI Undergraduate Resource Center funded by the United States Department of Education. The award establishing the program was the only one made to a liberal arts college and was competitively renewed every three years for fifteen years. David also accompanied students on Study Abroad on several occasions and served as a mentor, adviser and friend to countless alumni.