Join Bruce Mills, Professor of English, and Donna Odom '67 to explore the legacy of James Baldwin at Kalamazoo College. Bruce will provide a history of and guide reflection on "In Search of a Majority," the address delivered at Stetson Chapel in November 1960 and later published in Nobody Knows My Name. Participants will have access to the address as well as an excerpt from "Notes of a Native Son," the title essay from the book read by K students during Baldwin's visit. Donna will speak of the importance of oral histories in the work of racial healing. In addition, both will discuss their collaboration in relation to the Engaging the Wisdom Oral History Project, an initiative begun by SHARE (Society for History and Racial Equity).
Thursday, May 6
5 p.m. Eastern
Introduction by Andrea Johnson '15

Register: Critical Konversations – James Baldwin's Legacy at K
A Zoom link to join will be included in your registration confirmation email.
Questions? Please email Audrey Bitzer, Advancement Events Manager.
---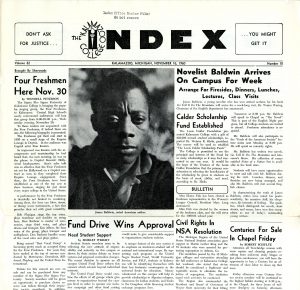 Resources
---
About Bruce Mills
Bruce Mills teaches in the English Department at Kalamazoo College. He has published five books, including Cultural Reformations: Lydia Maria Child and the Literature of Reform (1994), Poe, Fuller, and the Mesmeric Arts: Transition States in the American Renaissance (2005), and An Archaeology of Yearning (2013), a memoir exploring life with his autistic son. Bruce teaches early American Literature courses, African American Literature, and a senior seminar titled, Building the Archive: James Baldwin and His Legacy. In first-year and senior seminars, he has developed partnerships with community members; his collaboration with SHARE can be seen at the Oral History in the Liberal Arts website: ohla.info/engaging-the-wisdom-oral-history-project. He is committed to the work of racial healing, inclusion and equity initiatives, and has a broad and deep fascination with storytelling and its capacity create change.
---
About Donna Odom '67
Donna is a native of Chicago, Illinois.  She holds a Bachelor of Arts Degree from Kalamazoo College and a Master of Arts Degree from Loyola University of Chicago. Her background includes teaching at the high school and community college level and higher education administration in Chicago. She retired from the Kalamazoo Valley Museum where she coordinated history programs and special projects from 1994 to 2010. She founded the Southwest Michigan Black Heritage Society in 2003, which in 2015 became SHARE (Society for History and Racial Equity). She recently retired as  executive director. Donna is a past board member of the Kalamazoo County Historical Society, the Historical Society of Michigan, and the Michigan Oral History Association, and was appointed to the Michigan Underground Railroad Commission in 2020. She currently serves on the Kalamazoo College Emeriti Alumni Leadership Council, is a recipient of the YWCA Women of Achievement Award (2018), the Westminster Presbyterian Peace Award (2019), and is a 2021 AARP Purpose Prize Fellow.