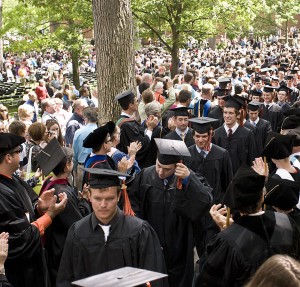 The 2019 Kalamazoo College Commencement ceremony will take place on the campus quadrangle on Sunday, June 16, 2019 from  1 – 3:30 p.m.
The Commencement speaker will be Dr. Kenneth Elzinga '63.
If you are not attending the ceremony, you may still watch it live. We will add a link on this page on Commencement day for friends and family to watch the ceremony through Livestream.
For further information, contact Kerri Barker at kbarker@kzoo.edu.