I walked into German class on Tuesday, November 11th, with a positive attitude. The class has proven to be quite the challenge, and I figured today was the day in which I take a new look at the German language and how it is impacting my experience at K. I was wrong.
Almost as soon as I sat down, a friend in the class whipped out a piece of paper with a fair bit of writing on it. I looked at it, and then looked down at my blank piece of notebook paper labeled "Ninth Week Tuesday."
Then it hit me. We had a reflection due in class. It was a simple assignment, given to us in plenty of time to complete, and didn't require one word of German. But for some reason, it had completely left my mind…to be replaced by the words of Taylor Swift's new song "Blank Space," I'm sure.
These are ten things I thought about when I realized what I had done.
Claudia. You have to be kidding me.
How could you do this to yourself?!?
Well, it is ninth week.
You did have an exam and a presentation yesterday.
But still, this was the easiest assignment of the quarter!
You are telling me that you can write a 12-page paper on the feminist reconstruction of the New Testament, but you can't write about what your strengths and weaknesses are in German class?
Ugh.
What is your Professor going to say?
I'll just turn it in late. It will be fine.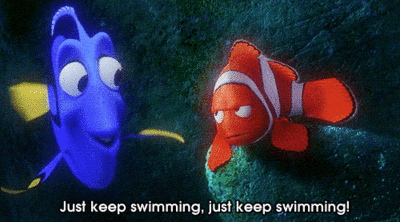 It is ninth week, after all.