The tower of Stetson Chapel houses a set of eight English change ringing bells, the only such bell tower in Michigan and one of only a few dozen in North America.
For the chapel's first half century, the tower stood empty. The initial idea that it might house a set of change ringing bells came from Professor Emeritus of Mathematics T. Jefferson Smith, who had learned to ring at the National Cathedral in Washington DC.
In change ringing, bells are rung one after the other in continuously changing sequences determined by mathematical rules, producing a cascading sound rather than traditional tunes. In 1977, Jeff (also known as T.J.) Smith introduced a two-week freshman orientation course on group theory that focused on change ringing using hand bells. Students ringing hand bells around campus attracted the curiosity of others, and soon the Kalamazoo College Guild of Change Ringers (KCGCR) was formed.
Coincidentally, this was not the first time changes had been rung on K's campus. Publicity about the new student guild caught the attention of alumni who got in touch to report they had learned change ringing on hand bells from Professor of English and College Dean Edward Hinckley in the 1940's. (Professor Hinckley's children donated his set of twelve hand bells to the KCGCR in 1998.)
Over the next few years, several students, both course participants and their recruits, continued to pursue change ringing seriously, ringing hand bells in public and before chapel services. They had become a campus fixture by the time President George Rainsford began looking for ideas to commemorate the College's 150th anniversary. Consequently, the proposal to install a set of tower bells in Stetson Chapel received wide support from students, faculty, and the administration.
Following an architectural study to determine if the tower was sound enough to withstand the force exerted by eight swinging bells weighing several hundred pounds each, college trustee (and alumnus) Dr. Maynard Conrad took the lead in raising funds to purchase and install the bells. Primary donors were Margaret Varney, Harold W. Brown, and the Arthur Vining Davis Foundation.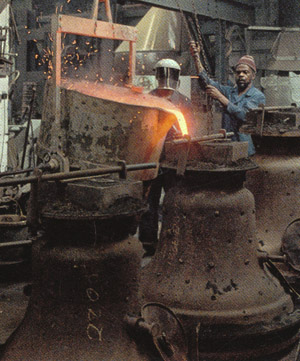 In 1983, the College's sesquicentennial, new president David Breneman gave the project the final go-ahead, and the bells were cast by Whitechapel Bell Foundry in London, England, later that year. They were installed the following spring, and on June 2, 1984, the bells were dedicated in a festival which included many English details such as double-decker buses and Morris dancers (see photo below). A band of experienced change ringers from around north America rang the three-hour dedication peal.
Each bell bears the college motto, Lux Esto ("be light") and is inscribed with a Biblical quotation and the name of a person associated with the college during its first century, including Kalamazoo's first permanent settler, Titus Bronson; college co-founders Thomas W. Merrill and Caleb Eldred; first college president James A.B. Stone and his wife and coeducation pioneer, Lucinda Hinsdale Stone; founder of the First Baptist Church of Kalamazoo Jeremiah Hall; Madelon Stockwell, protégé of Lucinda Hinsdale Stone and the first woman graduate of the University of Michigan; and sixth college president Arthur Gaylord Slocum.
Altogether, more than 100 people have learned to ring at Kalamazoo College, including students, faculty and staff, alumni, and area residents. Countless bell ringers from around the world have come to ring K's bells, and local ringers have hosted three general meetings of the North American Guild of Change Ringers. Stetson Chapel has been the site of many change ringing firsts and records, including the longest peal rung in North America.
More information about the bells and change ringing can be found on the Kalamazoo College Guild of Change Ringers site.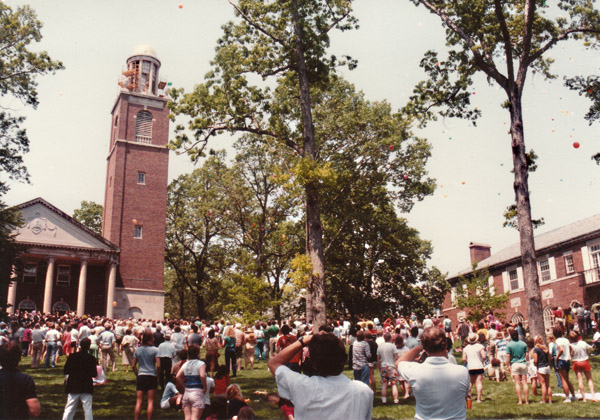 Text by Kit Almy; photos courtesy of Kalamazoo College Guild of Change Ringers