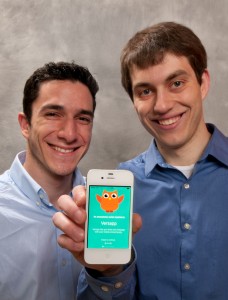 Users of a new social media application developed by two K juniors no longer have to worry about not having a second chance to make a first impression with its concept of anonymous interaction.
Versapp, a social media application combining anonymity and community, was developed by Giancarlo Anemone '15 and Will Guedes '15 with the help of angel investor Trevor Hough '08.
Launched last month for the iOS platform, with an Android version to follow, Versapp allows users to send a message using their friends list to initiate a conversation while remaining unidentified using the one-to-one chat feature. Or, users may participate in a group message where the participants are known but the comments remain anonymous.
Read more about Will, Giancarlo, and Trevor in an article by Rachel Weick in the August 8, 2014 edition of Grand Rapids Business Journal.