The mission of Kalamazoo College is to prepare its graduates to better understand, live successfully within, and provide enlightened leadership to a richly diverse and increasingly complex world.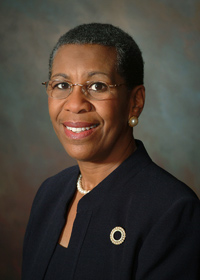 Dr. Eileen Wilson-Oyelaran, President
Welcome to Kalamazoo College.
Together in a fellowship in learning, the members of the Kalamazoo College community are developing a model of an educated citizen that combines scholarship, civic engagement, and in-depth living experiences in other countries.
As a highly selective, nationally renowned, and internationally oriented four-year college of arts and sciences, Kalamazoo College has developed a tradition of excellence in the fulfillment of this mission. It is located in Kalamazoo, Michigan, and enrolls 1,460 students from 40 states and 25 countries. Founded in 1833, K College is among the 100 oldest colleges and universities in the nation.
The Faculty
Kalamazoo College has 103 full-time faculty members, 86 percent of whom hold a PhD or the highest degree in their field. The student-faculty ratio is 13-to-1. Teaching is the most important responsibility of the faculty.
"At no Ivy institution are the students so deeply engaged, so broadly prepared, or so heavily invested in a sense of community as at Kalamazoo. In short, no Ivy school is likely to have as much impact on a youth's development." -Loren Pope, Colleges that Change Lives
The Students
Kalamazoo College seeks talented students from diverse backgrounds who are looking for the academic and personal challenges that are offered in a Kalamazoo College education. Admission is very selective and is offered to those applicants whose academic and personal qualities promise success. For more information on student life, visit the Student Life page. For more information about admission visit the Office of Admission or e-mail admission@kzoo.edu
The Kalamazoo Plan
For more than 30 years, Kalamazoo College has offered a nationally-recognized curriculum called the Kalamazoo Plan (often nicknamed the K-Plan), an undergraduate experience of rigorous liberal arts scholarship and opportunities for experiential education in both domestic and international settings.