2017 Event Schedule
Saturday, October 21
7:00 p.m.
Class of 2017 Informal Gathering
Shakespeare's Pub, 241 East Kalamazoo Avenue (back room)
Please join your class for an informal gathering at Shakespeare's Pub! Enjoy complimentary appetizers from the Office of Alumni Engagement as a welcome to the Alumni Association.
---
OrangeZest
Your memory book is ready to purchase or download.
2017 Orange Zest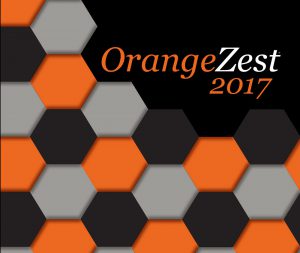 ---
Reunion Committee
Reunion Chairs and Class Agents
Emerson Brown
emerson.brown13@kzoo.edu
Bianca Delgado
bianca.delgado13@kzoo.edu
Eric De Witt
eric.dewitt13@kzoo.edu
Alivia DuQuet
alivia.duquet13@kzoo.edu
Emily Finch
emily.finch13@kzoo.edu
Chris Francis
christopher.francis13@kzoo.edu
Emma Franzel
emma.franzel13@kzoo.edu
Amanda Johnson
amanda.johnson13@kzoo.edu
Kamal Kamalaldin
kamal.kamalaldin13@kzoo.edu
Emily Levy
emily.levy13@kzoo.edu
Brooke Travis
brooke.travis13@kzoo.edu
Kriti Singh
kriti.singh13@kzoo.edu
---
Ways to Connect
Update your contact information with the College.
Create a lifetime alumni email forwarding address.
Customize your profile and find alumni in your city through the alumni directory.


www.facebook.com/groups/KClassof2017
Who's Coming
Brielle Bethke '17
Kennedy Boulton '17
Riley Boyd '17
Sarah Bragg '17
Allie Brodsky '17
Emerson Brown '17
Madeleine Chilcote '17
Jack Clark '17
Sabrina Dass '17
Eric De Witt '17
Alivia DuQuet '17
Jack Dynes '17
Cameron Earls '17
Tristyn Edsall '17
Emily Finch '17
Owen Galvin '17
Liam Gantrish '17
Brett Garwood '17
Eloise Germic '17
Janelle Grant '17
Alyse Guenther '17
Andrew Kaylor '17
Ian Kobernick '17
Emily Kowey '17
David Kracht '17
Jasmine Kyon '17
Arianna Letherer '17, Kevin Ching
Emily Levy '17
Gordon Liu '17
Branden Metzler '17
Suzanne Miller '17
Christina Park '17
Lauren Perlaki '17
Danielle Riffer-Reinert '17
Joshua Robison '17
Aaron Schwark '17
Steven Simmons '17
Kriti Singh '17
Grace Smith '17
Katie Sorensen '17
Sydney Spring '17
Brooke Travis '17
Camila Trefftz '17
Olivia Weaver '17
---